50 over 50 project
No. 7 Ann
Age: 64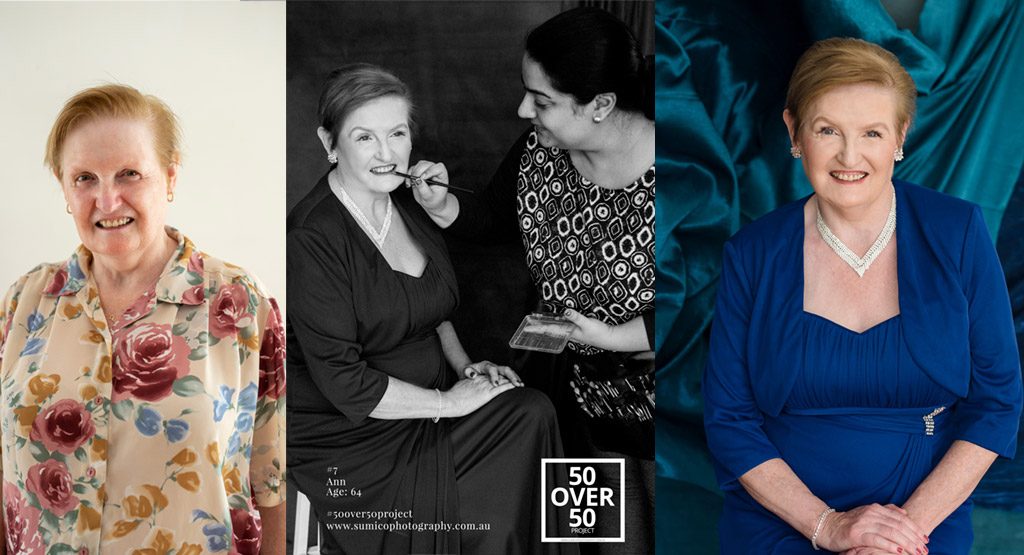 When I received Ann's application for this project, I asked her when is the best time to contact her. Then she replied back to me and she was in Zanzibar, Africa and she said that she can talk from Zanzibar – no problem. I was amazed by her attitude, ok – just do it now – She lives "Now" and I admire how she is. She is very active and has amazing energy.
She has lots of interesting life stories to tell. I believe that one day she will write books – maybe it is one of her do- lists.
Here is what Ann said;
When, in 2013, at age 59, I left my job as a Corporate Accountant, after 19 years with the same company I decided that I wasn't retiring as much as reinventing.
I have continued my acting which I started in 2000, having already built up a comprehensive resume over a range of types of productions including a large number of student and short films. One of my passions which led to formal training.
I don't know where the idea came from, but in 2013 I became a Registered Civil Celebrant, with Marriage Celebrant being the main service of my business. Celebrancy very quickly became, and continues to be, a really passion for me. I love thinking outside the box to make a couple's ceremony extra special.
In 2012 I gained my Real Estate Registration and worked for about 2 years in a local Real Estate Business on a casual, part time basis doing admin support and some process and systems work.
I am involved in a local business group where the focus is firstly on giving back to the community, underpinned by a strong network of local businesses.
I am a mentor in Salvation Army's Drive For Life Program taking a Learner driver on the roads to help them achieve the 100 hours to enable them to apply for their driving test.
Family is everything to me. I have a wonderful, long suffering husband, of 43 years, who helps me so much as my roadie for my ceremonies, supporting me in everything I do and researching holidays and saying "what do you think about…"
Travel has played a huge part in our life over the last few years and places visited include: UK, Ireland, Italy, Greece, Paris, Amsterdam, Brussels, a Danube River cruise, Victoria Falls, South Africa, East African Safari, Caribbean cruise, China, South America and numerous cruises. No wonder I have to knock back some weddings and acting roles.
We have an awesome and beautiful, son, daughter and daughter-in-law and a truly the cutest granddaughter born in May 2016. Through our daughter-in-law we have gained an extended family for whom we are blessed.
I was born in Lusaka, Zambia of British parents. My father was an architect and my mother a teacher. In 1963 my elder sister and I went to boarding school on the South Coast of England and visited Zambia then Uganda for school holidays. Our younger brother followed to boarding school a few years later.
After finishing year 12 I spent a year working in London before travelling to University in Mid Wales where I met my husband.
After leaving Uni I studied to become an accountant and we moved a few times for work before moving to Australia in 1993, landing in Brisbane Airport with 2 kids (5 & 9) and no jobs.
We have lived on the Northside of Brisbane for the last 25 years and our children keep on telling us we need to downsize from the home we have been in for the last 24 years.
We might when we get some time!!
---
Hair and makeup by Rita's Makeup Artistry
Photography & Video by Sumico Photography
https://www.sumicophotography.com.au/